General
Music I loved in 2019
A summary of the music I enjoyed in 2019
Another year over, a new one just begun. Happy New Year!
What ended up being one of my most listened-to albums in 2019, at once setting mighty heights to which ensuing releases would be comparably measured while defining a welcome retrospective flavour that now feels like I've been dining out in a childhood eatery all year, is the superb The Practice of Surrender by Orphan Ann. Released in January it was the only album to which I gave a maximum rating (from a total of 32 reviews). Of course, if you talk to anyone in the know over at Resident Advisor they'll try to tell you that grading music releases in this way is antiquated. To be clear, a score from The Letter efficiently translates to the level of investigation the listener should apply to this music, not specifically how good or bad it is. So whether it's a top-rated release heralding a ground-breaking new sound or a beautifully produced piece of compositional writing or a case of 'ok, nothing new to hear around here but this bangs', a score simply says: check this out... or not. I gave Orphan Ann full marks because I'm telling you to check it out.
Streaming heck
I continued to use Sportify and Bandcamp to listen before buying.
My Spurtify Wrapped thingy threw up a couple of hilarious clangers. One album I listened to was The Reflecting Pool by Jason Letkiewicz (a pleasant collection of electronic ditties) and here's what Sputify noted:
In perfect harmony

You discovered 445 artists this year. But you really vibed with Jason Letkiewicz.

You explored 12 of their songs, listened to 1 of their albums, and spent over 1 hour with them.
Over 1 hour? Lucky Jason, I suppose.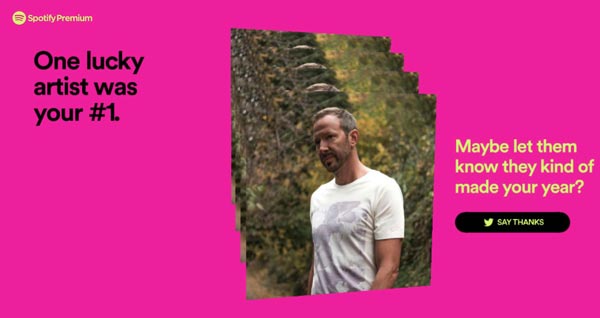 Then they reported that Ripperton was my #1 and perhaps I should let him know? Yes! I thought... a really nice idea. So I jumped onto his Twitter timeline to grab his username and prepare my cooing tweet... and I saw this:
...I'm 100% against @Spotify

— Ripperton (@Ripperton) December 6, 2019
Oh.
I'll hold off for now then, I decided.
It wasn't all awful algorithms though, their playlist of my top 100 tracks makes for a decent listen. Check it out:
On the B-side of streaming, we have Bandcamp. And as we all know, buying music directly from the artist or label via their Bandcamp shop is the best form of support. Furthermore, the whole Bandcamp eco-system, from their excellent mobile app to the (sometimes overwhelming) new-release email alerts to being able to dig into the collections of similar fans' purchases, is a joy. They've even improved the payment process for multiple currencies in one basket.
New old interests
Combing the vastscape of electronic music, the opportunity for discovering new takes on familiar shapes is virtually infinite, the proverbial boundaries incessantly battered through the increasingly accessible nature of making and recording sounds on the most basic of computer devices, the result of which is like opening the floodgates of invention and adventure. Ironically then that while the opportunity to plunge head first into freshly broken ground appeared before me like a bombed Baghdad, I more often than not found solace in things already known and loved, i.e. guitars and songwriting.
Towards the end of the year, Kranky released a new album from Pan•American (aka Mark Nelson of post-Rock group Labradford), a blissful blend of Ambient guitar and song. HTRK released Venus in Leo, a fifth album of downbeat, rock-hating songs which reflected the dismal, political face of the UK. Sounding like a cooler Suzanne Vega, Carla dal Forno's second album Look Up Sharp, married snappy lyrics with keen melody. Alex Smoke returned with his second LP of Wraetlic material and gave us a fine collection of left field Pop. Quality guest vocalists helped out with The Cinematic Orchestra's mighty return on their fourth album To Believe while Sonic Youth bassist Kim Gordon released her debut solo album No Home Record, on which she artfully abused her guitars and sang.
I enjoyed the collection of remixes from mysterious producer Abul Mogard entitled And We Are Passing Through Silently. The remix of the Nick Nicely track London South in particular used distorted guitars and organ alongside a gentle vocal melody to create a vast space in which I found escape. In a similar vein, on Egoismo, MMMD combined stretched-out guitar chords and vocal chants to foster a dark and immersive Ambient atmosphere. On the subject of 'dark' The Caretaker brought his bleak but ambitious three-year project Everywhere at the end of time to a spectacular conclusion with the last two instalments (six in total). Distorted samples crossed with white-noise gave the listener considerable substance for contemplation.
Vocal tracks FTW
Less guitars on the following releases perhaps but I generally found that vocal-led electronic music piqued my attention the most this year. Do check these out:
Genre blitzing
What is a musical genre these days? Pointless pigeon-holing? Or doing-what-it-says-on-the-tin? Are genre amalgamations worth shit? JK Flesh made something he called Dread Techno, delivering his heavyweight thud at 100 BPM on two notable releases: Knights Of The Black Table (split with Goth Trad) and In Your Pit. AÌŠmnfx created sharp new Jungle shapes on his superb LP Modern Life, with elements of House music spreckled throughout. Barker developed further his Techno-without-the-kick-thang on a strong debut LP called Utility. Elizabeth Joan Kelly's new album Farewell, Doomed Planet! deftly crossed various musical plains with aplomb. On ATØ, Ziúr gave us bass-heavy Rap, creepy Electronica, challenging sound design and bittersweet Pop, all wrapped up in a pleasing bundle. Genres blitzed I'd say.
Techno ain't dead yet bub
Even TECHN0 isn't really Techno these days. The best I heard skirting round these frayed fringes included Ellen Allien with her strongest album in years: Alientronic; it focused on key tropes like banging kick drums, wormy basslines and subtle melody. The first track was beatless too! Luke Standing gave us his fourth Blue Hour remix EP and that was perfectly-formed, no-pissing-around, straight-up Techno! Paula Temple crumpled up the Techno rulebook before smoothing it out again and gave us arguably the best Techno album of 2019 with Edge of Everything.
Chill out, man!
While voluminous vocal-led music, tempting titbits of Techno and oodles of sweet Electro kept my head nodding throughout the year, it was the dreamy world of Ambient that kept me rooted and mindful. Many of my favourite albums of the year (see below) fell into this category, so I won't divulge too much yet. All I'll say is that I loved the sumptuous results of Classical and Ambient cross-pollination, I drew great comfort in the beautiful and gentle electronic meanderings of folk like Sangam, Ekin Fil and Nils Frahm and where artists like Yamaneko tested boundaries, I was inextricably seduced.
Podcasts, compilations and get togethers
The descending trend of downloading and repeatedly listening to podcasts (i.e. free artist mixes) continued for me in 2019. These podcasts were a staple of my music diet ten years ago but these days I prefer to stream twice and only then download if I'm likely to listen again. The very few falling into that category (with five or more listens since download) were:
Artist compilations are another matter though. Usually unmixed, these can give a valuable insight into an artist's mind or background. I'm particularly a fan of 'influence' selections, like the DJ Richard one above, for this very reason. They're a chance to discover (often) rare and top quality music. Three compilations I loved were:
I also knocked together a compilation of my own this year: Compy 45
FavFavs
And so to my favourite favourite releases of 2019, in order of release date:
I reviewed The Practice of Surrender and described it as terrifyingly good but dark Electronica. It's actually disturbing Ambient. The type of music perfectly poised between chaos and calm, grotesquely beautiful, like an Acid flashback, contentment balancing on the brink of despair.
Where Ambient and Classical combine. Taking inspiration from texts and choreographic concepts, the Canadian cellist has used subtle samples and electronics to create an emotion-packed album.
Rain-soaked streets, cold neon strip-lights and a sad Blade Runner vibe. This UK artist is prolific but the quality rarely drops. The perfect intro if he's new to you.
Wordless electronic lullabies from a Russian producer on Posh Isolation... 'nuff said.
Second entry from Sangam, this time a collaboration with Bruised Skies. Essentially, more of the same goodness.
Four tracks of tasteful Acid-tinged workouts with an Ambient vibe.
I'll admit I wasn't enamoured at first but after a few listens this ended up as the album I listened to most in 2019; oh the power of a strong opening track! Cosmic vibes aplenty with flashes of brilliance and glorious wonder. Read my review.
Emotive and pumping, just what you'd expect from electronic music informed by computer games and Trance. This however has a neat underlying concept and every track is a pure killer.
I was deeply dippy about Jacob Long's previous album An Act of Love so any follow-up was always going to be measured against that fine effort. In the of case Grass and Trees, he's excelled himself! Downtempo Dub and Ambient with a hint of Barker's Techno without a kick drum.
The closest thing to Pop in this list of favourites. Underground Pop if you prefer. And like the Nathan Micay LP, every track revels in catchy melody and pleasing rhythms. The polished production gleams but it never sounds overworked.
Birds tweet, tribal rhythms abound, Indonesian island vibes pervade. This is holiday music for the bedroom escape. Deep and Ambient splendour.
The new Suzanne Vega reaching out to the hipsters with relatable anecdotes. I really love this album.
Arguably better than his last album, this series of three EPs come together to form a perfect whole. Starts quietly and builds gently.
Like Julia Kent, Tobias Preisig plays the cello and works magic in unexpected ways. Another wondrous, genre-defying escapade. Read the review.
His best work to date, Spirals shows a producer who understands how to create complex and emotional music. The kind of album to return to again and again.