General
Music Round-up December 2008
A strange month for music. It started quietly with only a handful of purchases (The Black Dog, Stanton Warriors, SCSI-9 and Sinden) but that all changed..
Stanton Warriors - Sessions Vol 3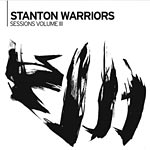 Fuck that shit
I'm not a massive fan of rapping but when thoughtfully included in a mix it's usually acceptable. Yo Majesty are getting rave reviews everywhere but I can't really see what all the fuss is about (from what I've heard). In saying that though, the Stanton Warriors remix of their Club Action is growing on me a lot. And this rapping style with big beats in general is a prevalent sound throughout this mix, courtesy of the likes of Benzo, Flipside, Big Booty Kim and Too Short.
Top moments include the A-Trak remix of BoysNoize's Oh! (top notch), the excellent Timebox mix of Frankie Vallie and The Four Seasons Beggin', which sadly isn't long enough and Get Wild (Bassbin Twins Mix) by the Stanton Warriors themselves, which sports a cool, buzzy bassline. And let's not forget the Alan Braxe Ft Killa Kella track Nightwatcher (Tony Senghores Night Vision Version) has a most memorable riff.
It's good to hear Digitalism still getting some attention, with their ripper of a track Zdarlight slotting into the mix well. And penultimate track Precinct by Stanton Warriors contains a really nice organ-type refrain.
Overall, it's a cohesive collection.
8/10 | 9 listens
The Black Dog - Thee Singles II
Minimal excellence
A useful round-up of the last four singles (Riphead, Floods, Set To Receive and Train By The Autobahn) from The Black Dog, all of which appear (in some form) on their amazing album Radio Scarecrow.
The first versions of Riphead date back to 2006, while various takes of Floods have appeared from 2007 onwards. And it's through these subtle changes it's possible to hear TBD sound evolving, getting more atmospheric (technically superior?) while retaining the right level of melody.
The real gems though are the the latter two releases, Set To Receive and Train By The Autobahn, both of which come from 2008 and really see TBD sound flourishing. It surely says something that all three tracks from Set To Receive appear on Radio Scarecrow! And the pièce de resistance is without a doubt the three new mixes of the dreamy Train By The Autobahn.
All great stuff but to honest if you own Radio Scarecrow it's probably not a necessary purchase, just pick up the Train By The Autobahn single instead.
9/10 | 12 listens
Sinden - Fabriclive 43
Shut your mouth
Another mix from Sinden and more top quality mixing, the kind of which we've been getting used to; everything this guy touches turns to gold! This 43rd Fabriclive release is an optimistic mix of big basslines, listenable rapping, sweet melodies and some very slick mixing.
Opening track Centre Stage by Juiceboxxx & Dre Skull is a belter and if you don't smile and clap along at 2:36, you may well not be alive. Yo Majesty rear their ugly heads again with their track Club Action but I've forgiven them now. The bouncy beat is maintained through Aquasky and Armand van Helden before we're treated to a few cool African-related cuts; starting with African Chant by Scottie B & King Tut, followed by my favourite track of recent months, Mujava's Township Funk and Tigerstyle's Balle! Shava!
Later in the mix JOKER's Gully Broke Lane and JME's AWOH makes for a tasty transition. And arguably the top moment (yes, even better than the Mujava remix) is Zomby's Strange Fruit... just awesome. I'm loving the cut-up vocals on Project Bassline's Drop The Pressure and this track slots alongside the cut-up giggling of Giggle Riddim from Piddy Py perfectly.
The mix ends well with two blissful moments from M83 and Salem.
Highly recommended.
9/10 | 12 listens
SCSI-9 - Easy As Down
Perfect home listening
Blue Wolf From North is a great opening track; the melancholic, haunting cries throughout really resonate with me. So that's the first box ticked (amazing opening track that makes me want to play the album repeatedly).
In fact the rest of the album is of the same high quality. The Rime sports a lovely plinky-plonky melody while there's something jolly about the cheesy bassline in Boys Away, which just makes me love it even more. Together reminds me of Mlle Caro & Franck Garcia (which is a good thing) with it's subtle but incessant beat and ghostly sounds.
All-in-all ideal home listening.
7/10 | 7 listens
Other bits and pieces I've been enjoying
Jonty Scruff's "boxed mix" is a tight mix which starts slowly but picks up with a few quality moments including a Crookers mix of Wiley's Summertime, a quality sample on Fidelity Kastrow's 21st Century Girl and ending with a fabulous version of Nathan Fake's Outhouse.
The Blaqstarr mix for the We Make It Good mix series has proved to be a slow grower but the few gems in there that miraculously work together, like Gnarls Barkley alongside Nirvana have started to work for me.The best bits are actually the Blaqstarr tracks, in particular War Of Roses ft. Jack Denning (BlaQJack) and Bang Hard. Must check out more Blakstarr.
Johnno Burgess's cheesy Resident Advisor podcast has been a real surprise. Hated by ultra-cool music-heads for including artists like Phil Collins and Hall & Oates but I love it. Klubb Kebabb's Africa is sheer brilliance and to end with KC & The Sunshine Band's Please Don't Go is a touch of class.